Here are my ABC notes on the 2021 Oscar awards: 
a) Anthony Hopkins beats Chadwick Boseman for Best Actor In A Leading Role for his role in "The Father." Social media seems pissed Chadwick got snubbed. 
b) Brad Pitt had a ponytail at the Oscars and of course he pulled it off. He announced the "Best Supporting Actress" since he won "Best Supporting Actor" last year for "Once Upon A Time In Hollywood. It was so cute to see all the ladies blush when he announced their names and when winner from "Minari" Youn Yuh-Jung went onstage and looked for Brad. She found him backstage and was so happy to chat with him.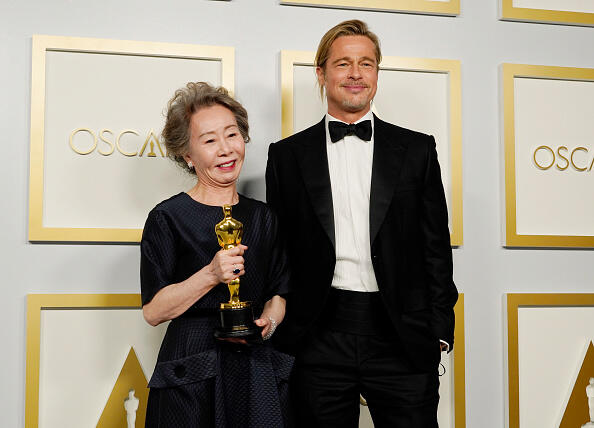 c) Chloe Zhao, director of "Nomadland" recalled reading & memorizing Chinese poems with her dad, her favorite being "Three Character Classic." She shared her favorite line that she lives by, "People at birth are inherently good." She also made history as the second woman to win Best Director and the first person of color. 
d) Debuting... Aaron Sorkin & supermodel / widow of late Cars frontman Ric Ocasek who passed last September 2019... Paulina Porizkova! The title made me chuckle as they're "Hollywod's Hot New Age-Appropriate Couple"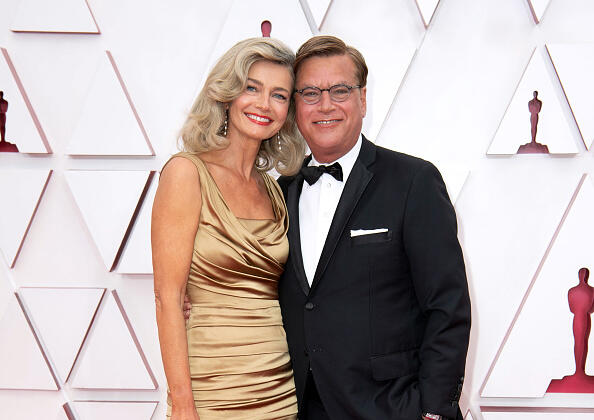 e) Emerald Fennell won for Best Original Screenplay for "Promising Young Woman." I didn't know this about her until I watched the show that she wrote and directed the movie ad did so while being 7-months pregnant! 
f) Frances McDormand won the Academy award for Best Actress for her portrayal of Fern in "Nomadland" and she howled in tribute to a late friend who lost his life to suicide.
g) Glenn Close ... twerked?! Look it up!
h) Halle Berry ... No boo boo, your hair was not cute.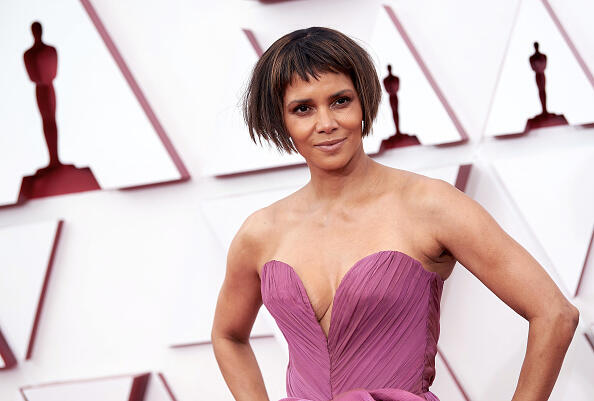 i) "For Ida"... That speech by Ida's dad, Thomas Vinterberg choked up as he remembered his 19-yr old daughter who passed in a car accident just 4 days after production began. Thomas is the director for the Danish film, "Another Round." The movie won for "Best International Feature." Watch the FEEL GOOD tribute speech, see below.
k) Alan Kim cutie from Minari showed up: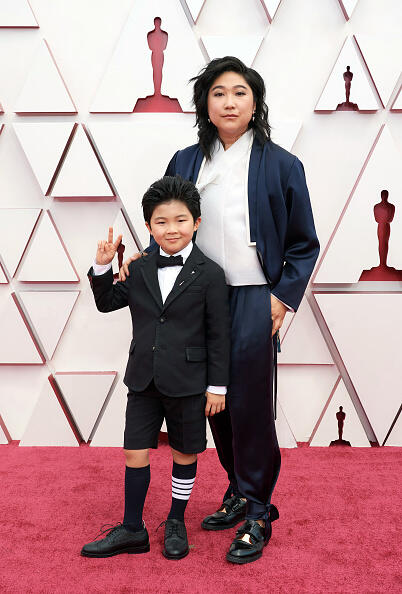 l) LOVED Tyler Perry's speech!
m) The music played during segues sounded like it came straight from the KOST 103.5 FM   
n) Nomadland was the winner of the night, taking home a total of awards, including Best Picture.
o) No ORCHESTRA playing off the winners this year. 
p) Promising Young Women... I need to see this movie. It looks really good! 
q) The Oscars Quit the clips! People were not happy about that.  
r) Regina King strutting into Union Station opened up the show. What stood out to me was how she reiterated the mask rules. While the show was on, masks could be off and while the show was not on, masks had to be worn."
s) "Soul" won for Best Animated Feature Film. The team worked from home finishing the project for 7 weeks in post production. Pretty incredible! 
t) Tenet won for "Best Visual Effects." Movie always reminds me of Calvin going to another state to watch in theatre.  
u) Union Station set the scene. The historical building that serves as a transit hub got dolled up for the Oscars! As a local and someone who grew up going on field trips to this place as a little girl and taking my kids for train rides, I was looking forward to seeing how they would use this set for their award show and I really loved it.
v) Vaccinations and testing took place, which is why all who attended went through a regimen used on Hollywood sets.
w) Which Studio had the most nominations? Apple 2, Samuel Goldwyn 3, Universal 4, Sony Pictures 6, Searchight 6, A24 6, Focus Features 7, Warner Bros 8, Walt Disney 8, Amazon 12 and last but not least, Netflix led all studios with 35!!!!!! 
x) X? What was missing from the Oscars? Clips, Orchestra, Comedy, Host
y) Youn Yuh-Jung, 73-yr old star who played the grandma in "Minari" won Best Supporting Actress. Her speech was funny too!
z) Zendaya seemed to be the only one who wore a mask the entire time while sitting. Plus, she was wearing over $6-million dollars worth of Bulgari diamonds! 
Lessons learned: Even when a show sucks, the fun is on Twitter.