Since the COVID-19 pandemic, we've all learned not to take freely going outside for granted. As you go out and about, and return home, here are some things you can do to keep your home safe:
Use a door opener. In addition to hand sanitizer, look for ways to open doors without having to touch germy surfaces.
Leave your shoes and bag at the door. The number one thing you should do when returning home is to keep your shoes outside (if you can) and your bag at the door.
Wash your face mask or place it into a bag. According to the CDC, you should wash your face mask after each use. 
Disinfect your phone, keys, and other items you took with you. Wipe down anything you take with you thoroughly, including your cellphone, keys, and water bottle, with disinfectant wipes or soap and water.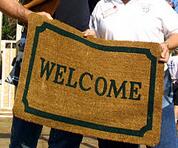 photo credit: Getty Images