Favorite Valentine's Day Candy By State
A lot of gals, and even guys, will be getting chocolates or candy today for Valentine's Day, but what delicious treat you get, or want, may depend on where you live.
Well, in case you missed it, CandyStore.com has come out with a list of the favorite Valentine's Day candy by state based sales data from its online bulk candy store and industry partners, and we can't say we're surprised by the top choice.
Overall, conversation hearts are most popular Valentine's Day candy for a second year in a row, although since Sweathearts version aren't on sale this year, that popularity is expected to decrease next year. When it comes to states, conversation hearts are the most popular Valentine's Day candy in 22 states, including California, Wisconsin, Tennessee, South Carolina, Oklahoma and New Jersey, and lands in the Top three for many others.
Other popular Valentine's Day Candy per state include:
Candy necklaces – Alabama
Heart-shaped box of chocolate – Alaska, Connecticut, Indiana, Kansas, Mississippi, New Mexico, New York
Hershey's kisses – Arkansas, Delaware, South Dakota
M&Ms – Idaho, Iowa, Maryland, Pennsylvania
Chocolate hearts – Maine, Nebraska
Chocolate roses – Oregon, Wyoming 
Click hereto see what is the most popular in your state.
Source:USA Today
The cards, candy and flowers have been bought and tonight millions of couples will go out to a special dinner for Valentine's Day. But you know what's better than heading to a restaurant on this holiday evening? Staying in and cooking yourselves. And this is why.
You don't have to worry about all that restaurant stuff- Take the stress out of your Valentine's night dinner by skipping the restaurant. At home there are no reservations required, no wait, and no expensive cocktails.
Special Valentine's Day menus really aren't that special- Your choices are often really limited to a few options, prices may be jacked up, and that free glass of sparkling wine they give you as a bonus for your overpriced meal? Average at best.
You'll have to see and deal with other humans at a restaurant- This is the holiday for celebrating your feelings for your special person or for having fun with your friends, but either way, you don't need to spend it in a crowded bistro with a bunch of other couples when you could be at home enjoying quality time with your Valentine.
You can't hear your date in a crowded restaurant- If you have to shout to communicate across the table, so does everyone else and that's not the way you want to spend the evening.
No one wants to wait on your table on Valentine's Day- Your server, bartender, and hostess would all rather have the night off to do whatever they want than work tonight.
Everything costs less at home- Valentine's Day might not be the time to focus on saving money, but think about what you could do with all the money you'd save not ordering the overpriced bottle of bubbly at the restaurant when you can get it for $20 at your wine shop.
It's the act of cooking that counts- Planning the menu, shopping for the food and wine, lighting the candles, setting the table and making the lasagna or chocolate cake all mean so much more than even the fanciest Valentine's Day dinner at a restaurant. Anyone can go out to eat, but cooking really shows you care.
Source:Bon Appetit
Lots of people would be thrilled to get a dozen roses from their Valentine today, but fresh blooms only last so long. So one clever husband created a flower that never dies for his wife and shared it on social media, basically putting us all to shame. Twitter user Jiří Prausbuilt his wife a "mechanical tulip" that blooms when you stroke it and lights up and it's not only thoughtful, it's really beautiful.
Praus, who lives in the Czech Republic and calls himself a "developer during the day, hardware maker at night," teased the flower's creation earlier this month in a series of tweets. And followers have been watching as he put it together, before revealing the impressive finished product, which "blooms" when it's caressed and changes colors, too. He says the flower is "almost like jewelry" – and hopefully his wife will agree.
Many Twitter users agree it's pretty much the best present ever. The #mechflower was turned into a Twitter momentwhere people called him a "keeper," joked that he "set the bar unreasonably high for the rest of us," and other husbands admitted they need to "up their present game." And any of them who want to try to replicate his creation will have the chance because Praus says he plans to release the instructions soon.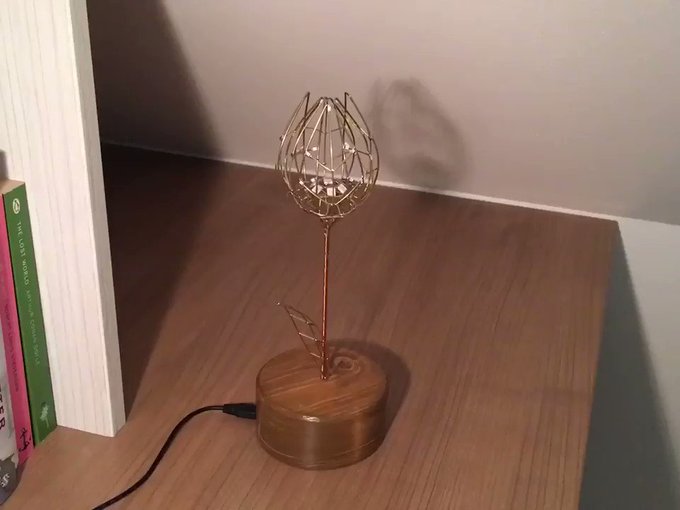 Source:Elite Daily
It's no secret that social media makes it easy for online trolls to torment anyone. But before you suggest that people are being whiners, consider that a new survey shows most Americans have dealt with harassment at one time or another.
A new survey by the Anti-Defamation League finds that 53% of Americans say they were the victim of hateful speech and harassment last year, which is up from 18% in 2017. What's more, 37% categorized the attacks as severe, including sexual harassment and stalking, while one third of those polled said the abuse had to do with their sexual orientation, religion, race, ethnicity, gender identity or disability.
And a lot of these threats were more than just calling people names. In fact, 20% of people said they were physically threatened online, while another 20% dealt with sexual harassment, 18% reported stalking and 17% suffered sustained harassment.
All of this harassment is changing the way people spend their time online. Of those who've been harassed, 38% say they cut back or changed their online habits, with 18% contacting a social media platform, and 15% actually taking steps to protect themselves. In some cases things were so bad that 6% actually called the police.
As for what should be done...80% of people believe the government should strengthen laws with regards to harassment, plus they feel law enforcement need more resources and training in the area. In addition, three quarters want platforms to make it easier to report such hate, and 81% want more ways to filter out such negative content. 
Source:USA Today
Nobody wants to shell out a lot of money on a car that's not reliable, and now new report reveals which are the most reliable vehicles out there. 
J.D. Power has just released their 2019 U.S. Vehicle Dependability Study, and it seems folks are apparently satisfied with their cars, with dependability up 4% from last year. The study measured problems experienced for every 100 vehicles in the last 12 months of cars with a model year of 2016, looking at 177 specific problems in eight major categories.
With all that in mind, Lexus ranks highest for dependability among all brands, the eighth year it has topped the list. Lexus only had 106 problems per 100 vehicles, where as the industry average was 136. As for the least reliable brand, Fiat ranks last with a whopping 249 problems per 100 vehicles. 
Top Ten Most Reliable Vehicle Brands
Lexus
Porsche
Toyota
Chevrolet
Buick
Mini
BMW
Audi
Hyundai
Kia
The study also broke down the most dependable vehicles, based on type of car.Some of the most dependable include:
Small car: Chevrolet Sonic
Compact car: Buick Verano
Midsize car: Toyota Camry
Large car: Buick LaCrosse
Small SUV: Volkswagen Tiguan
Compact SUV: Chevrolet Equinox
Midsize pickup: Nissan Frontier
Midsize SUV: Hyundai Santa Fe
Minivan: Chrysler Town & Country
Large SUV: Ford Expedition
Click herefor the complete list.
Source:USA Today

Jay and Dawn
Want to know more about Jay and Dawn? Get their official bio, social pages & articles on Magic 107.9!
Read more