THAT DARN QUESTION
45% of people say you should not do this with a co-worker-what is it?
DAWN'S HELPFUL HINT....I DO THIS WITH FORMER CO-WORKERS TO KEEP UP WITH THEM, THEIR LIVES, AND FAMILIES....BUT NOT MY CURRENT CO-WORKERS...
Answer-DO NOT be friends on Facebook
Congratulations to Lavonna in Springdale!
Rowing Club Finds Touching Note, Follows Its Request
October 23, 2018
When the Bishop Vesey's Grammar School rowing club arrived to practice at a nearby lake in the U.K., they found a touching note with a rose attached to the locked gate. "Please can someone throw this in the lake for me?" the note reads. "My late husband's ashes are in the lake and I can't get to the lakeside in my wheelchair anymore + gates are locked - have to drive back up north tonight. Thank you."
So the rowing club made sure the rose request was granted and put it in the lake with the person's husband's ashes. They tweeted a photo of the red flower floating on the water and wrote "No name or number left, but whoever you are, rest assured your rose in in place in the middle of the lake."
It's heartwarming to know that there's still hope out there in the world. One Twitter user put it perfectly, tweeting, "Faith in humanity restored."
Source: Mashable
A Five-Year-Old Ghostbuster Keeps City Safe From Ghouls
October 23, 2018
The city of Sacramento is safe thanks to a five-year-old who became a real life Ghostbuster. London Green got to live out his dream of being part of the team from one of his favorite movies, "Ghostbusters" thanks to Make-A-Wish of Northeastern California and Northern Nevada.
London was born with a congenital heart defect and has endured four open heart surgeries and one of the things that's kept his spirits up was his love of "Ghostbusters." So he was pretty excited to dress in full Ghostbusters garb, vanquish three different ghosts around town, ride in a Ghostbusters mobile, and then get a key to the city after all that ghostbusting.
Stuart Green, London's dad, says the events were a welcome break from his son's past medical issues, adding "It's just amazing to see people come together and do something for someone that they don't even know." And what does the ghostbuster himself think? London says saving the city was "super cool."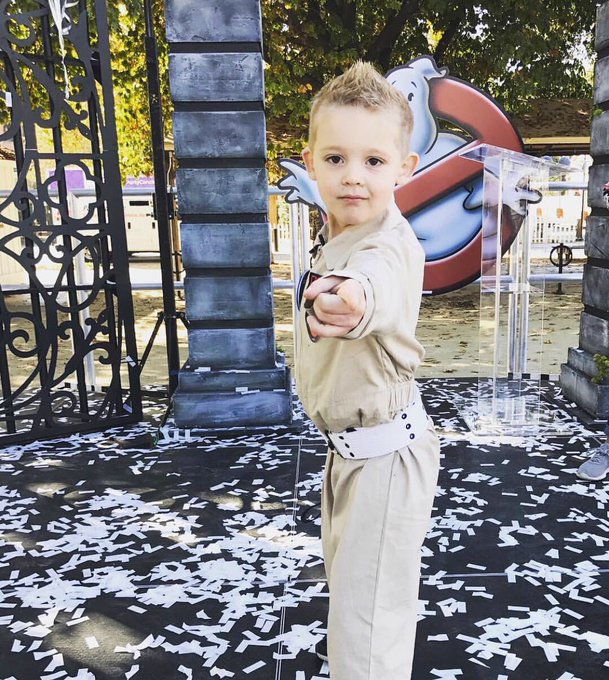 Make-A-Wish CA NV

@MakeAWishCANV

Who you gonna call? Wish kid London! today he saved the day and the entire #Sacramento community!

1:09 PM - Oct 22, 2018
Source: KCRA
NYC Student Goes From Homeless To College
October 23, 2018
Odean Gray in New York was recently accepted to State University of New York Cortland on a full scholarship — but his path to college was NOT easy. While Gray lives in the college dorm, his mom and brother are still housed in a homeless shelter.
The 19 year old grew up in Rochester but after his family's home was burglarized in 2016, they moved to New York City. They ended up sharing a one-room apartment in a shelter. Without a place to study or internet access, the young man still found way to graduate high school with top honors. He even made the varsity wrestling team. When it came to time apply for college, he wrote his essays for the applications on his phone since he didn't have computer access. That's the kind of determination that landed him a full ride to the University.
Gray was one of 30 other students who live in family shelters operated by WIN that were accepted into college this fall. Gray's mom said she's extremely proud of her son's accomplishments.
Source: New York Daily News

Jay and Dawn
Want to know more about Jay and Dawn? Get their official bio, social pages & articles on Magic 107.9!
Read more